Licensing
Atavism Subscription License allows you to reduce the entry price level. Your license will be valid until the time covered by your subscription within which you will have access to the newest Atavism version. You can also cancel your subscription and come back whenever you want without any additional cost.

The uncompromised flexibility of this license allows you to change the CCU number on the fly at any time, and your balance will be recalculated and subtracted from the newly selected subscription plan.
For example, if you will want to upgrade your license from $29 (100 CCU) to $63 (250 CCU), your balance will be calculated based on remained full days of your 100 CCU subscription and will be subtracted from the payment of your new 250 CCU selected plan, so if you will have remained 30 days of the 100 CCU plan you will have to pay price difference $34.
This rule also applies when you will want to change the CCU number to the lower value, so if you will have $63 (250 CCU plan) and you will want to switch to lower plan, if your balance will be more than $29, then you will be able to switch to the plan without additional cost.


You can manage your subscriptions directly from your Customer Portal (APANEL). You can scale it (upgrade or downgrade) on demand, or cancel at any time.
Included 14 days trial ensures that you can test it without any commitments.
Atavism 2019 On-Premises Standard Subscription (14 days trial included)
$29
/30 days
Allows 100 Concurrent Users
Comes with Atavism 2019 server software you can host wherever you want
Comes with Atavism Editor 2019 for Unity
Full Atavism Demo Unity files same as in Atavism Live Server Demo Setup
Access to Atavism Plugin server code (AGIS)
Access to updates
Pay as you go
Scale it (downgrade or upgrade) on demand
Test it for 14 days without any commitments
Cancel at any time
No termination fees
Below table represents the cost of Subscription License which only differs by an amount of CCU. 
| | |
| --- | --- |
|   | Price/30 days |
| 100 CCU | $29 |
| 500 CCU | $33 |
| 1000 CCU | $38 |
| 2000 CCU | $48 |
| 3000 CCU | $58 |
| 5000 CCU | $78 |
| 10000 CCU | $128 |
Dedicated, a multithreaded scalable server solution with Login and World Server Architecture including Proxy Server.
Dynamic Quadtree solution which is capable to split the world into different level size based on settings and number of Players/Mobs/NPCs. Unique architecture that allows to split it into 16 separate functional servers where 4 of them can be multiplicated per instance/zone basis (proxy, world, combat, mobs) to balance the workload. This gives an unprecedented performance. Both vertically scalable where Atavism can utilize all your server cores thanks to very mature multithreading design based on Java and horizontally scalable where you can split the workload between multiple servers to utilize more hardware or Cloud Virtual Machines. If you will add that you can host it anywhere, no matter if it's your hardware or cloud solution gives you the freedom and independence you need.
Access to Atavism Plugin server code (AGIS), with coding knowledge it allows to modify and adjust server-side logic)
Unity Atavism Editor configuration panel which allows for very detailed settings of Atavism Plugins, and the most importantly without any coding skills and knowledge.
The most popular game engine as a rendering client-side with the largest community and Unity Asset Store to speed up development progress.
Constantly developed and improved solution with proper support which is so important factor in MMO game development process.

Featured by Unity as "Insanely advanced MMORPG platform for Unity".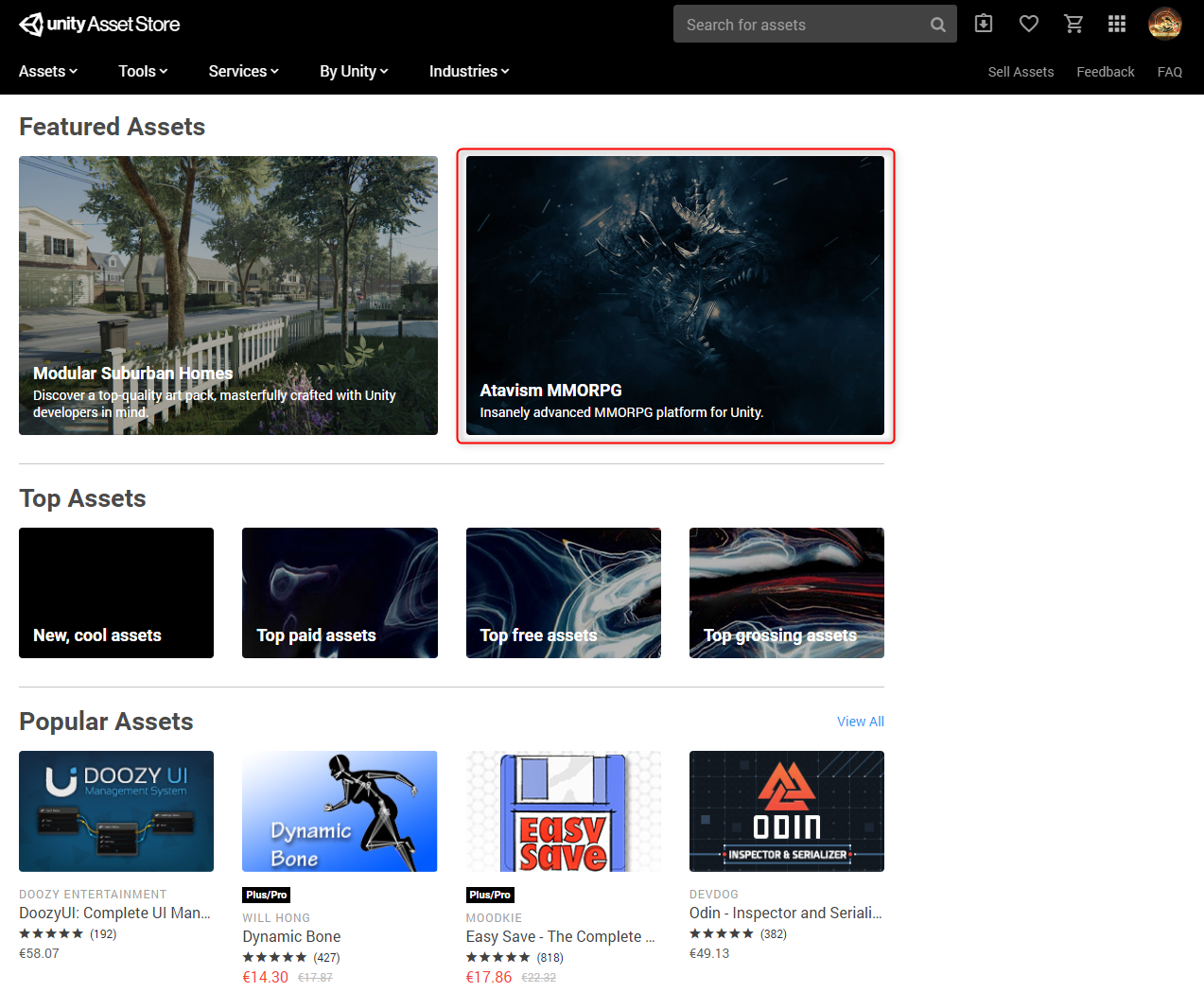 Atavism X On-Premises Standard
$499
Allows 1000 Concurrent Users (can be stacked up to increase the limit)
Unlimited servers and environments up to the CCU limit
Comes with Atavism X server software you can host wherever you want
Comes with Atavism Editor X for Unity
Full Atavism Demo Unity files same as in Atavism Live Server Demo Setup
Access to Atavism Plugin server source code (AGIS)
180 days of free updates included
Atavism Maintenance Plan is a dependent product and can be only assigned to your Atavism On-Premises License to extend its permission to update for the specific period of time. With the new Ataivsm licensing model there is one Atavism Maintenance Plan independent on the CCU number which is available in packages 180 days and 365 days. What is also worth to mention is that because we removed monthly and quarterly plans, there is no back cover, which is a plain and simple solution. If you have an old license you can migrate it for free to the new Atavism licensing model in the Atavism Customer Portal (APANEL).
 

180 days

365 days

Atavism X On-Premises
Standard

$90

$144


For old licensing model each Atavism On-Premises License has its specific Atavism Maintenance Plans which are suitable for the license, so to extend your Atavism On-Premises Advanced License you should choose one of the Atavisms Advanced Maintenance Plan (30, 90, 180, 365 days) and accordingly for other licenses.
Atavism Maintenace Plan can be purchased directly from your Account within Atavism Customer Portal (APANEL)
 

30 days

90 days

180 days

365 days 

Atavism 2019 On-Premises
Standard

$11

$32

$63

$125

Atavism 2019 On-Premises
Advanced

 $21

$63

$125

$250

Atavism 2019 On-Premises
Professional

$105

$313

$625

$1250

Atavism 2019 On-Premises
Ultra

$209

$625

$1250

$2500